Coronavirus
Important Information for Healthcare Facilities, Schools, and Retail Stores
The increased news coverage on the seriousness of Coronavirus has resulted in a state of heightened awareness surrounding respiratory illness.
According to the Centers for Disease Control and Prevention (CDC), the 2019 Novel Coronavirus (SARS- CoV 2) is a coronavirus attributed to the cause of a respiratory illness (COVID-19) outbreak originally discovered in Wuhan, China. First, several patients associated with the outbreak in Wuhan, China were allegedly linked to a seafood and animal market, which assumed animal-to-person spread. Since then, there are patients that have not had exposure to these markets, so it is assumed that it spreads person-to-person. It is not clear as of yet if this virus is able to spread easily and thrive between people.*
Coronaviruses are a large family of viruses that are common in many different species of animals. They rarely infect or spread between people, however this strain of the virus may be spreading at a much steadier rate, similar to the way the flu spreads.
Important Talking Points
Though the death total for the flu is much higher than SARS-CoV-2, major concern for the spread of coronavirus arises from the death rate of the virus, which is significantly greater than the flu.

No products on the market have kill claims against SARS – CoV 2
Similar coronaviruses such as Severe Acute Respiratory Syndrome (SARS), Middle East Respiratory Syndrome (MERS) coronavirus, or endemic human coronaviruses (HCoV) can survive on surfaces for up to 9 days.** There is much more to learn about the transmissibility, severity, and other features associated with SARS – CoV 2 and investigations are ongoing. Currently, there are no vaccines to prevent COVID-19. The best way to prevent infection is to avoid exposure. The CDC recommends the following measures to prevent the spread of respiratory viruses: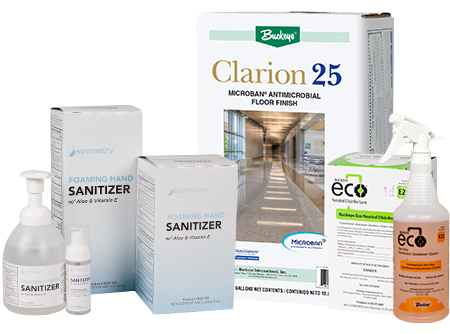 Wash your hands often with soap and water for at least 20 seconds, especially after going to the restroom; before eating; and after blowing your nose, coughing, or sneezing.
If soap and water are not readily available, use an alcohol-based hand sanitizer with at least 60% alcohol. Always wash hands with soap and water if hands are visibly dirty.
Avoid touching your eyes, nose, and mouth with unwashed hands.
Avoid close contact with people who are sick.
Stay home when you are sick.
Cover your cough or sneeze with a tissue, then throw the tissue in the trash.
Clean and disinfect frequently touched objects and surfaces using a regular household cleaning spray or wipe.***
Buckeye takes SARS – CoV 2 and resulting COVID-19 seriously and continues to take a proactive approach in our effort to prevent illness. Buckeye programs strive to educate the public on the importance of best cleaning, disinfecting, and hand hygiene practices.
Every effort is being made to meet the increased demand for disinfectants and hand hygiene related products. Buckeye offers Symmetry Hand Hygiene® Products, Buckeye Eco® disinfectants, and Clarion® 25 Antimicrobial Floor Finish to help fight the spread of germs and bacteria.
We will continue to support our partners, to the best of our ability, as the situation develops. For more information, see our Research Fact Sheet 12020.
Download these materials:
*
https://www.cdc.gov/coronavirus/2019-ncov/about/index.html
**
https://www.journalofhospitalinfection.com/article/S0195-6701(20)30046-3/fulltext
***
https://www.cdc.gov/coronavirus/2019-ncov/about/prevention-treatment.html