Symmetry® Hand Hygiene Program
"We were looking for a hand sanitizer that our staff would use. With Symmetry Hand Sanitizer, our compliance increased and the staff loves it."
Teresa Leary, RN, BSN,
CIC Brockton Hospital - Brockton, MA
The Centers for Disease Control and Prevention (CDC) and World Health Organization (WHO) state that hand hygiene is one of the most important steps in reducing the spread of germs.
Symmetry understands the importance of hand hygiene acceptance and manufactures products that people want to use in a reliable dispensing system.
Buckeye's commercial hand hygiene program offers a complete line of hand hygiene products and dispensers, awareness, education and behavior modification tools, and training for your specific needs. Symmetry's line of innovative hand washes, hand sanitizers, lotions, body washes, and dispensers are ideal for any market.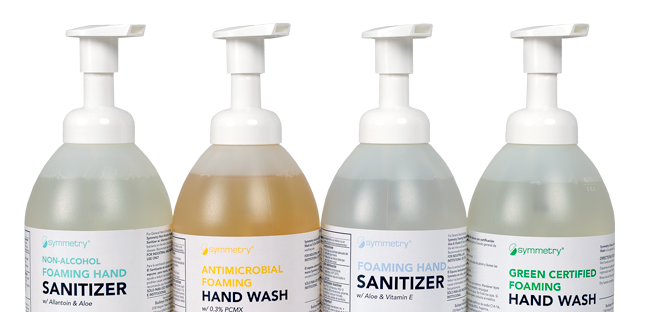 Complete Line of Hand Hygiene Products
Less likely to contribute to dry hands
Leave no sticky residue behind
High quality and low cost products
Packaging is BPA-free.
BPA (bisphenol A) has been linked to health problems.
Symmetry Dispensers
Our commercial hand hygiene program includes a variety of products suited to your needsI. Symmetry dispensers have large sight windows for checking product levels, are available with hidden locks or keyed, and may be customized with your logo, message, and color.
"We had an ongoing problem with soap dripping in our residents' bathrooms. However, when we were introduced to Symmetry the problem was solved! No drips, no mess, and we realized huge cost savings!"
Rittenhouse Senior Living | Middletown, OH
Resilient Dispenser
Behavioral health facilities face unique safety challenges given the variety of users they serve. Symmetry Resilient dispensers provide hand hygiene solutions that maximize user safety while supporting hand hygiene compliance protocols.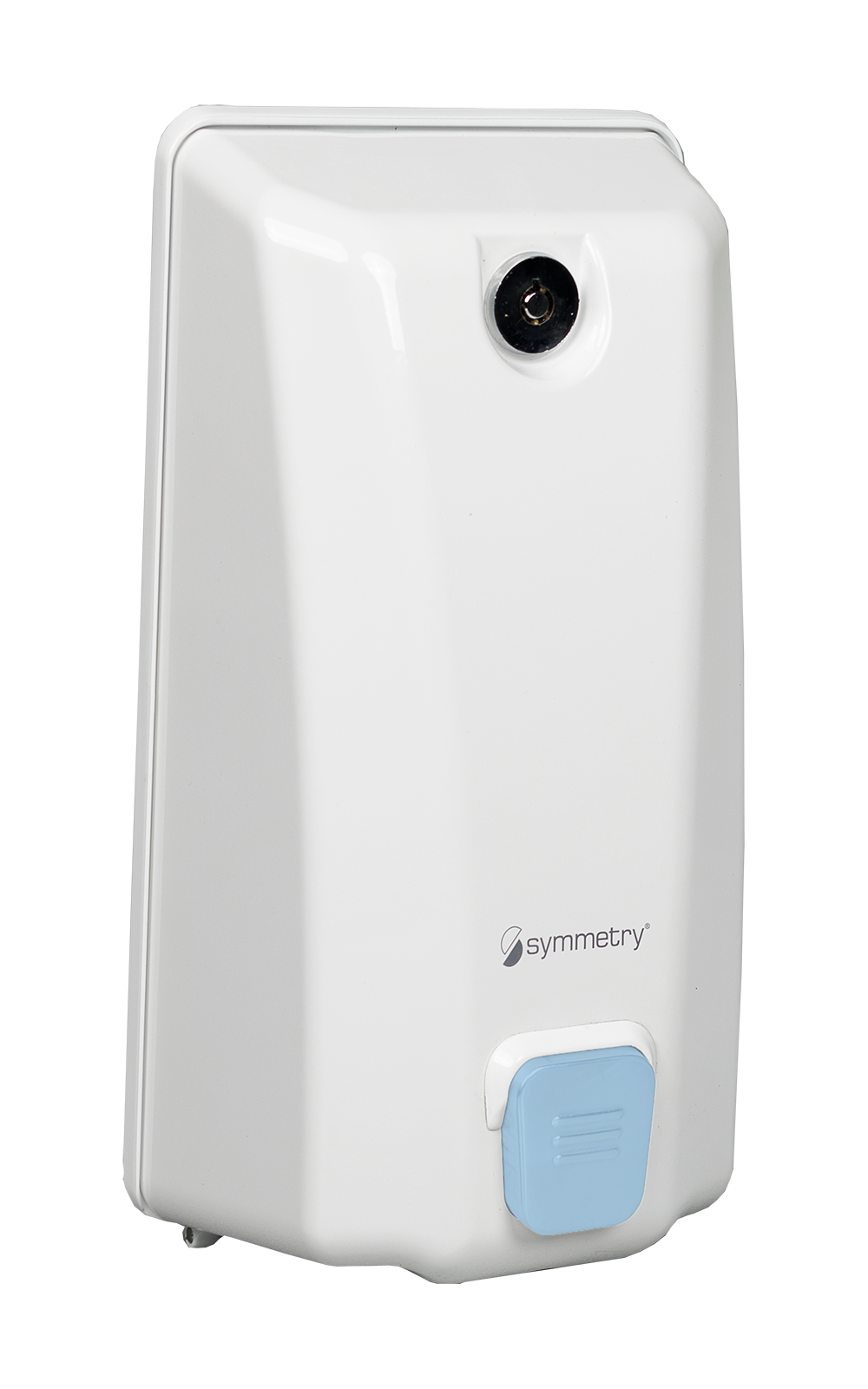 The Resilient Dispenser meets the OMS PSS (Office of Mental Health Patient Safety Standards) guidelines, reducing the risk of harm to inpatient individuals. Learn more about Patient Safety Standards here.
Reduce Hand Hygiene Costs
Hand hygiene product costs are measured by cost-per-push, and determine savings by dividing the cost of the product by the number of hand washes.
Symmetry Hand Hygiene offers one of the best cost-per-push in the industry.
International Design Award (IDA) Bronze Sub-Category Winner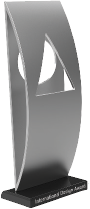 The ergonomics of the Symmetry dispenser combined with behavior modification placards and educational signs inspire hand hygiene practices at the source.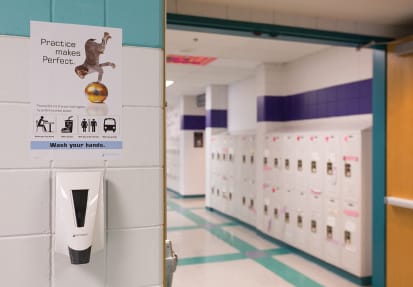 "Symmetry soap and hand sanitizer have been a big hit in all of our schools. I think my nursing staff has been encouraging students to wash their hands more often and so have the teachers, and I think they are because of the new products. We have had an overwhelming positive response to it."
Janet Thornton, RN and Director of Health Services at Coffee County Schools in Manchester, TN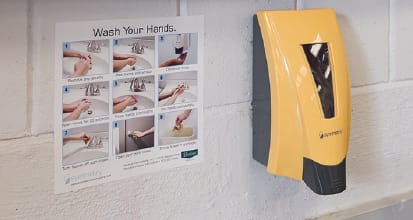 Customizable Awareness & Education Materials
The Symmetry hand hygiene program offers informative, customizable education and awareness tools that focus on the "HOW" and "WHY" of proper hand hygiene to help you maximize hand hygiene practices in your facility.
Some of the materials we provide include:
Wall Charts, Posters, Product Literature and Handwashing Videos
S
B
M
S
Symmetry Behavior Modification System
Symmetry utilizes behavioral science to drive hand hygiene practices. As a value-added component of our program, the SBMS is a set of unique placards and signs with messages designed to inspire and maximize hand hygiene practices.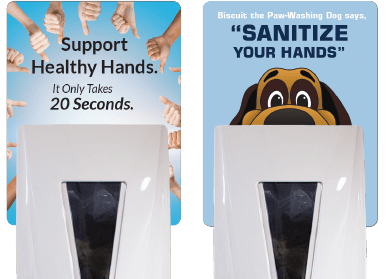 We also offer Symmetry Visual Lighting Cues (VLCs) for our dispensers.
The American Journal of Infection Control (AJIC) published a study that measured hand hygiene compliance using visual lighting cues (VLCs). The study concluded that a flashing light affixed to hand hygiene dispensers drew attention to the dispensers, and approximately doubled hand hygiene compliance, highlighting the effectiveness of incorporating such cues into Buckeye's commercial hand hygiene program and products.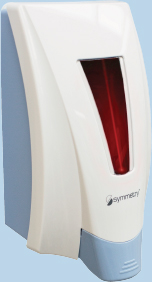 Symmetry Hands-Free Dispenser Stands
These foot pedal activated dispensers require no assembly and use the same 1250 ml bags as standard Symmetry dispensers. They are perfect for use in outdoor settings. Easily transport this lightweight stand for outdoor events without fear of rust or malfunction.
The stand is made with UV protected High-Density Polyethylene (HDPE) plastic, and all springs, pedal pins, and screws are zinc coated for corrosion protection.
Test and Evaluate Products in Your Facility
We provide the dispensers, hand hygiene products, and surveying tools.
Then participants test and evaluate our products against other hand hygiene programs.