Buckeye Eco® Proportioning Program
Achieve the best overall value for each dollar spent with the fully integrated Eco Proportioning Program, designed and manufactured with proprietary technology for you, the end-user, in mind. Effective, safer, economically and ecologically friendly chemistry; hermetically sealed, flexible, and sustainable packaging; together with a simplistic approach to proportioning to protect and preserve your environment.
Why Use Proportioning/Dilution Control Systems?
A major component of an effective cleaning and maintenance program is the use of dilution control systems. Buckeye proportioning/dilution control systems offer push-button and automatic fill proportioning for ease of use, making it virtually automatic to properly dilute products. Diluting concentrated products through proportioning/dilution control systems is quick, easy, accurate, and will save you money.
Push and Lock Buttons/Automatic Fill Levers
Press the button to lock in place for hands-free operation to fill mop buckets, auto-scrubbers, and extractors. Automatic fill levers allow for quick and easy spray bottle filling.
Why Choose the Buckeye Eco Proportioning Program?
The answer is simple – the Buckeye Eco Proportioning Program provides overall value and convenience. The Buckeye Eco proportioning system, packaging, and chemistry are economical, ecologically friendly, reliable, simple to use, and designed for your facility to achieve maximum return on your investment. And you can customize your Buckeye Eco Proportioning Program according to your facility's needs. Consider space availability, how many products you will dilute, cost, and whether or not your products need additional security when choosing what will go into your program.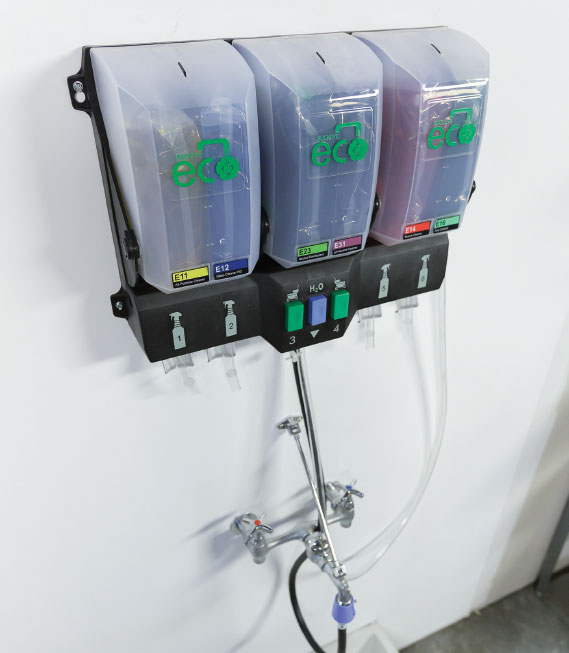 Benefits of Buckeye Eco Proportioning Systems
Compact
Install compact Buckeye Eco proportioning systems in virtually any custodial closet and maximize storage space.
Green Cleaning
Buckeye Eco products are designed for maximum effectiveness while being ecologically safer. Several Buckeye Eco products are Green SealTM certified.
Flexible Packaging
Eliminate product waste with Buckeye Eco's flexible packaging, delivering a 99.9% product evacuation rate.
Super Concentrated Products
Buckeye Eco super concentrated products reduce labor time and offer superior end-use cost.
Proprietary Technology
Manufactured with proprietary technology, the Buckeye Eco proportioning system's innovative design and Buckeye Eco super concentrated products produce maximum efficiency.
"Buckeye helped us transition to team cleaning by providing a program using exceptional products. The Buckeye Eco Proportioning Program is simple and efficient, and with Buckeye's environmentally friendly and sustainable products, offer us 25% savings!"
Michael Allen, Public Works Building Maintenance Manager, City of Fairfield, Fairfield, CA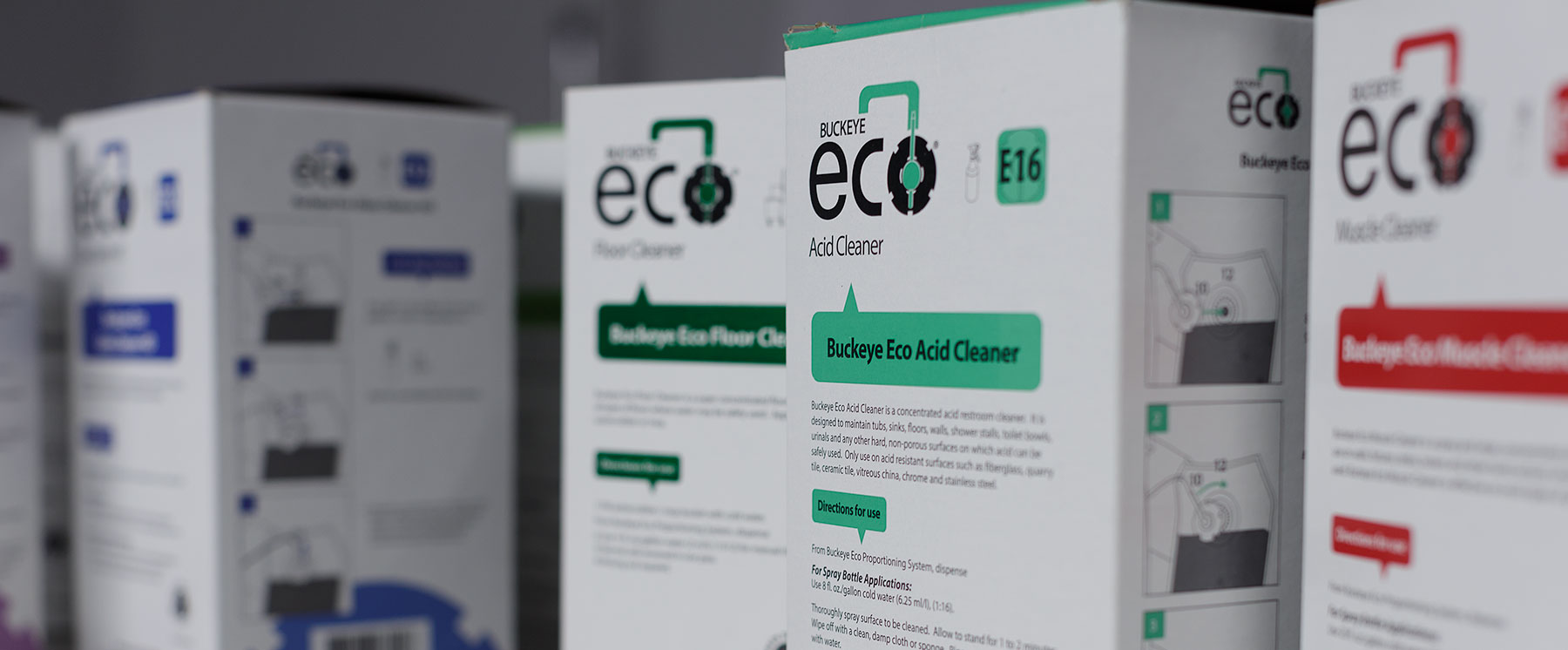 Available Eco Proportioning Systems
Push and Lock Buttons
Push on, push off Buckeye Eco unit buttons – no twisting or turning dials. Press the button to lock in place for hands-free operation and fill mop buckets, auto-scrubbers, and extractors.
User Designated Lock
Hidden lock or keyed Buckeye Eco unit – you decide for added security and tracking product usage.